Peninsula Drain and Septic Inc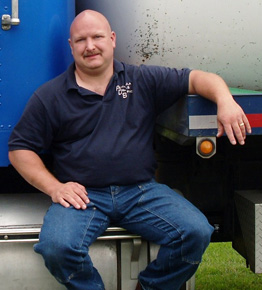 My wife and I started Peninsula Drain and Septic Inc in 2007.  We provide county certified septic inspections, septic pumping, septic installations and portable toilet services.
Our team is currently five people strong.
Our team includes myself (Dan), my wife (Jennifer), my son Seth, my son Caleb and my daughter-in-law Hanna (Seth's wife).  I'm the primary pumper, Seth is the primary inspector, Caleb assists Seth and myself as needed and also is the primary portable toilet service tech, Jennifer and Hanna run the office and keep us organized!
Our Business Growth
I worked in the construction business for 23 years and started Peninsula Drain and Septic Inc in 2007.  My wife and I went full-time with this business early in 2009.
Later that year, we acquired Fair Deal Septic Pumping and added that to our inspection and installation services.
Memberships & Affiliations
We are members of the Port Angeles Chamber of Commerce.  We are members of Grace Baptist Church in Port Angeles.
Certifications
We are Clallam County Certified for septic pumping, septic installation.  Seth and I (Dan) are both Clallam Certified Specialists II for O&M (inspections).
About Me
I moved here from Alger (Washington) when I was six years old, so I have grown up in the area.  My family roots are in Joyce.  I attended several private schools in the area, got my GED when I was 15 and began to work full time in the construction industry in my family's business - Helgeson and Sons Construction.
I really enjoy scuba diving, golfing with friends and I like guns.  I don't have much time for them since I started the business :-) , but I enjoy them!
Peninsula Drain and Septic is Clallam County's only complete septic system services company and has been providing serivce for Port Angeles, Sequim, Forks and outlying areas since 2007.
Get in touch with us to schedule service
!